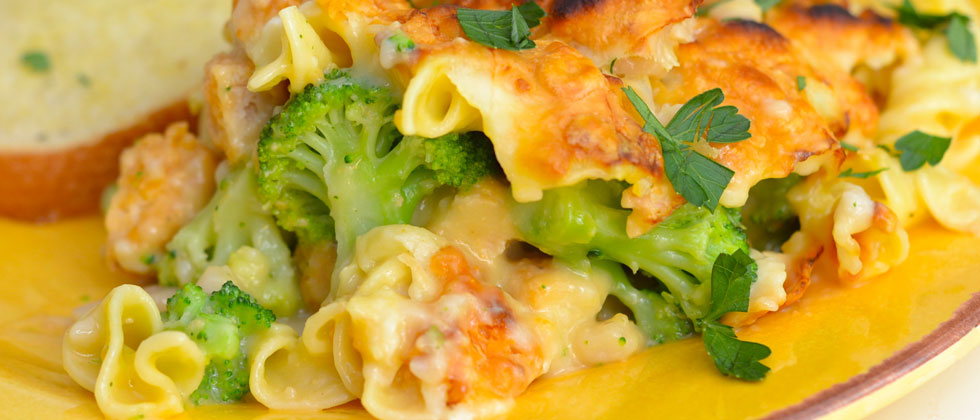 Creamy Chicken Broccoli Casserole
Chicken nuggets, broccoli, and noodles combine for a new twist on an old classic.
Cooking Instructions:
Preheat oven to 400°F
Place frozen chicken nuggets flat on baking sheet, 6-8 nuggets per casserole. Bake chicken nuggets 12-15 minutes, to bake nuggets evenly on both sides, turn nuggets over halfway through baking time, return tray to oven and complete baking.
Cook noodles per package instructions, drain and set aside. Cook broccoli according to package instructions without adding salt or fat, drain well, set aside. Combine soups, milk, and lemon juice in small bowl, stirring well to blend.
Coat 2- quart baking dish with cooking spray. Arrange the cooked broccoli on the prepared baking dish.
When chicken nuggets are done baking, lower oven temperature to 350 degrees.
Chop- chicken nuggets into smaller pieces (small crouton size pieces). Mix with the cooked, drained noodles. Arrange layer of nuggets-noodles over broccoli.
Pour soup mixture evenly over casserole. Sprinkle cheese on top.
Bake casserole at 350 degrees for 20-25 minutes or until thoroughly heated.